Webex Information
Webex Online Conferencing System:
We use the Webex conferencing system for our online meetings. This system gives us access to individual audio, video and chat along with shared applications, whiteboard, documents, integrated web browser, and other resources.  We can also record our sessions for later review. Direct access to our Webex site is at https://communiterra.webex.com.
PLEASE NOTE: You DO NOT need to sign up for a Webex account to participate in the online meetings. An account is only needed if you plan to HOST your own meetings.
Listening to Webex Recordings:
To listen to recordings of Webex meetings you will need to download and install the Webex Network Recording Player. 
For Windows use this link.
For Mac use this link
To download the current version of the users guide for version WBS31 dated 2016-04-05 (pdf) use this link
The recordings are usually available in download form, but some of them can be streamed.  Streaming means that when you click the link the playback will start almost immediately.  Download means that you can download the entire file and save it on your computer for playback at any time.  This is a good option if you have a slow connection and the streaming playback keeps pausing due to limited download bandwidth.
Setup for Attending Online Webex Meetings:
Prior to the scheduled start time of the meeting we will send out an email with a link to the Meeting Center.  When you click that link you'll be asked to enter your name, email address and possibly a meeting password.  After you click Join, the Meeting Center should then open.
If it's your first time attending a Webex session your browser will download and install a small Webex plugin. You may need to say "yes" or "allow" for the installation to proceed.  (In Internet Explorer watch for a light yellow bar at the top of the screen.)
If you have any difficulty, or if you just want to set up your system manually go to this URL:
https://communiterra.webex.com
Look for the "Downloads" link in the left menu as shown below: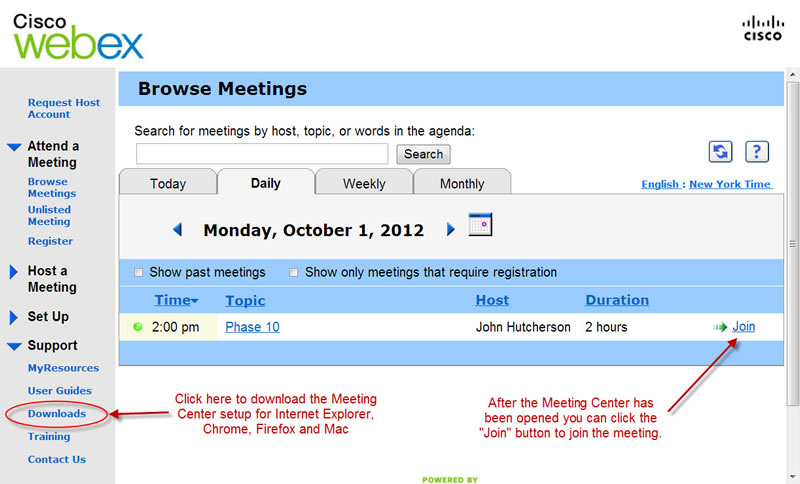 After you click on that link you'll be taken to a page where you can download the appropriate installer for your system as shown below.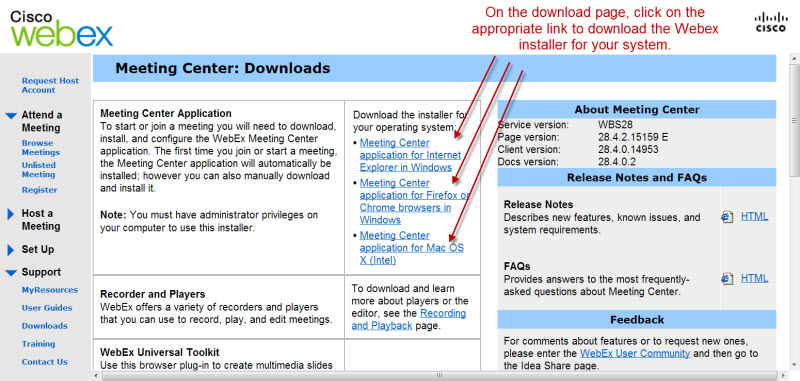 The Webex Meeting Center User Guide can be downloaded here.